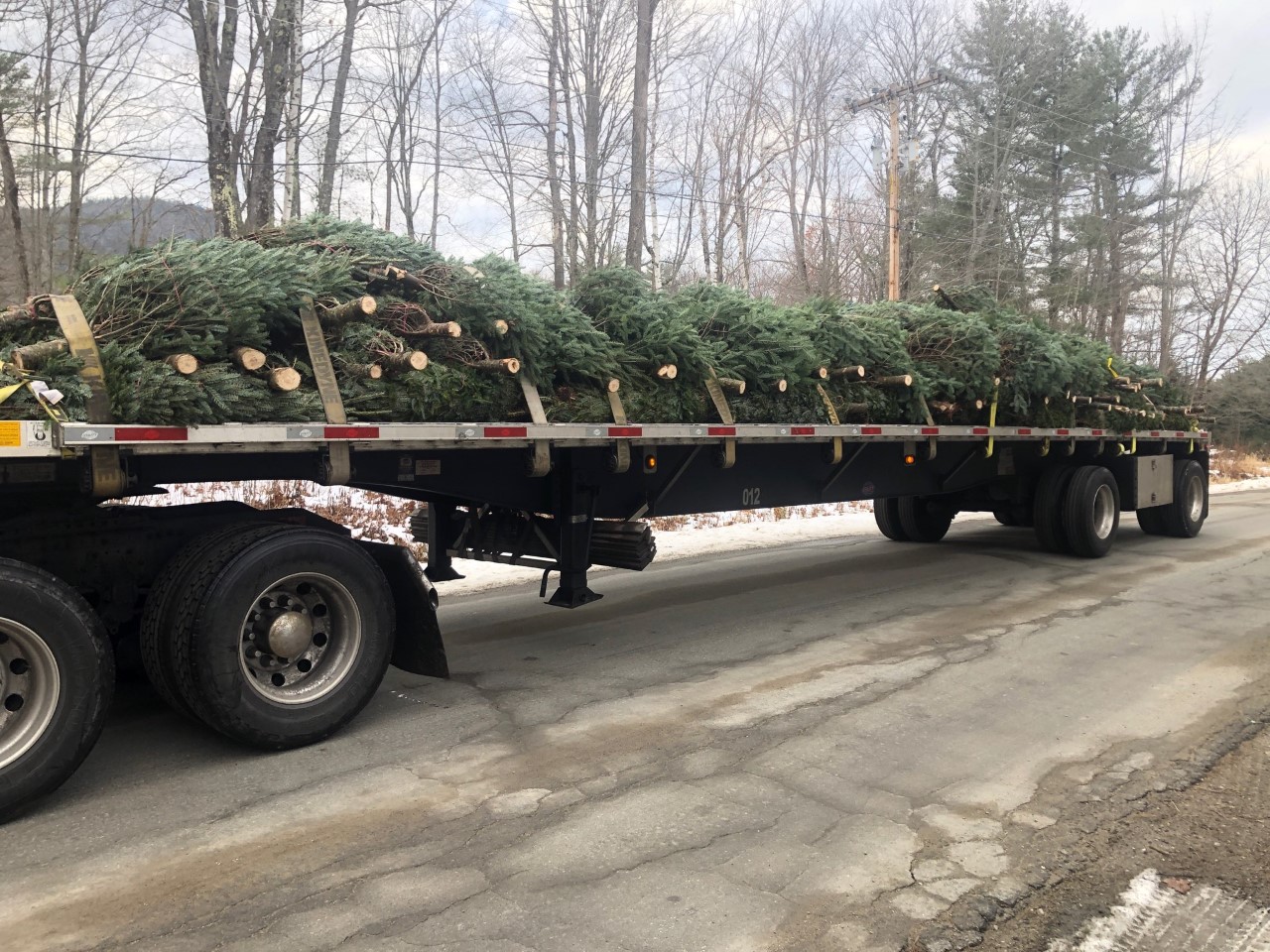 200 Christmas Trees Shipped on a Flatbed Trailer
Our specialty Christmas tree shipping project manager Stephen Ladd undertook these 200 trees from Orford, New Hampshire, to Flushing, New York. This Heavy Haulers team included skilled loaders for the fresh Christmas trees, and expert drivers operating heavy-duty rigs to meet the timelines required. Once the trees were harvested, a small window for their hauling became available before the busy holiday season, and Stephen aimed to capitalize on speedy conveyance.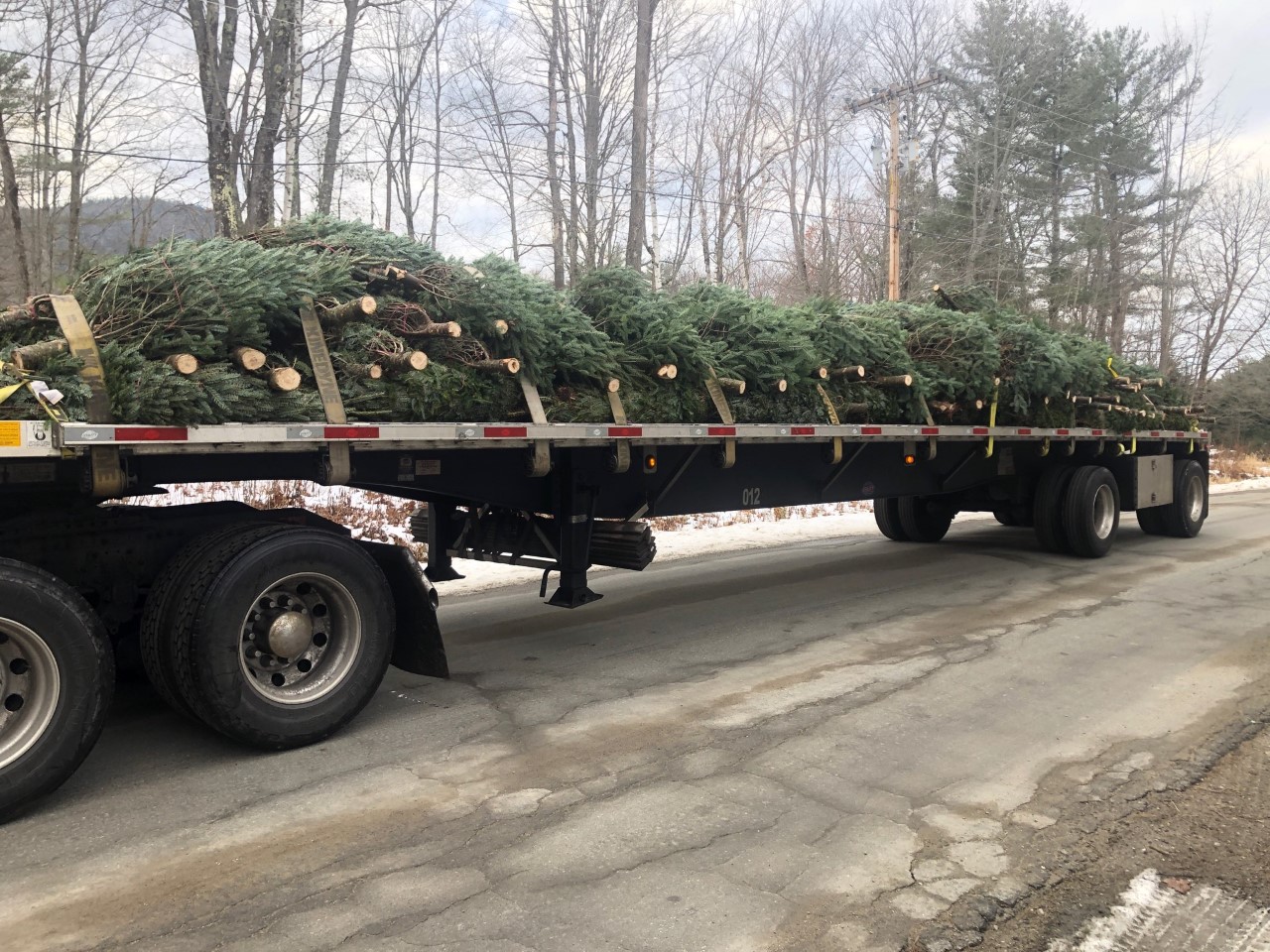 Get a Free Shipping Estimate Now!
Call us for all your heavy haul trucking needs! (800) 908-6206
The 200 trees were loaded on an open flat deck trailer since the distance to transport was 278 miles and tied down securely with large belts. These medium-sized Christmas trees needed to be hauled in a concise and early manner, which saved our client the hassle of last-minute dashes. Our no deposit and no-hidden-cost shipping prices at Heavy Haulers do not become inflated when the season approaches, and Christmas tree transport estimates are industry competitive. 
Experienced Heavy Haulers transport specialists like Stephen perform logistics and coordinate dispatch for consignments of Christmas tree every year, delivering them straight from the farms. We also use our large fleet of dry vans and refrigerated trucks for Christmas tree shipping throughout all the US states, Mexico and Canada. 
This load took only 5 hours to ship from the Orford farm in New Hampshire to flushing, queens, New York City.  
With the demand for over 20 million Christmas trees every holiday season, Heavy Haulers helps ship them around the region, a responsibility we don't take lightly. We ship Fir, Pine, Cypress, Spruce, and Cedar trees, where we are known for making quick arrangements for oversize Christmas tree hauls. The harvesting of Christmas trees also involves equipment that makes up the mainstay of our shipping capabilities, such as tree cutters, balers, and bundlers.
Stephen conducted this entire shipment from the point of contact to successful delivery, and the client requested more consignments as our effectiveness to time frames became apparent. Call Stephen at Heavy Haulers on (800) 908-6206 for tree shipping information and enjoy a free cargo estimate. 
Load details: 200 mid-sized balsam fir trees 
Transport duration: 5 hours and 22 minutes
Transport distance: 278 miles
Route direction: I-91 S
Stephen Ladd
Stephen Ladd is a senior logistics professional at Heavy Haulers, he coordinated this entire transport from start to finish, If you'd like a shipping estimate or more information on transportation from Stephen please call him at his direct contact below.
Contact Him Today: (754) 424-9946
For More Heavy Haul Blogs Check Out:
Tell us what you thought of this Christmas tree transport in the comments!
Get a Free Shipping Estimate Now!
Call us for all your heavy haul trucking needs! (800) 908-6206