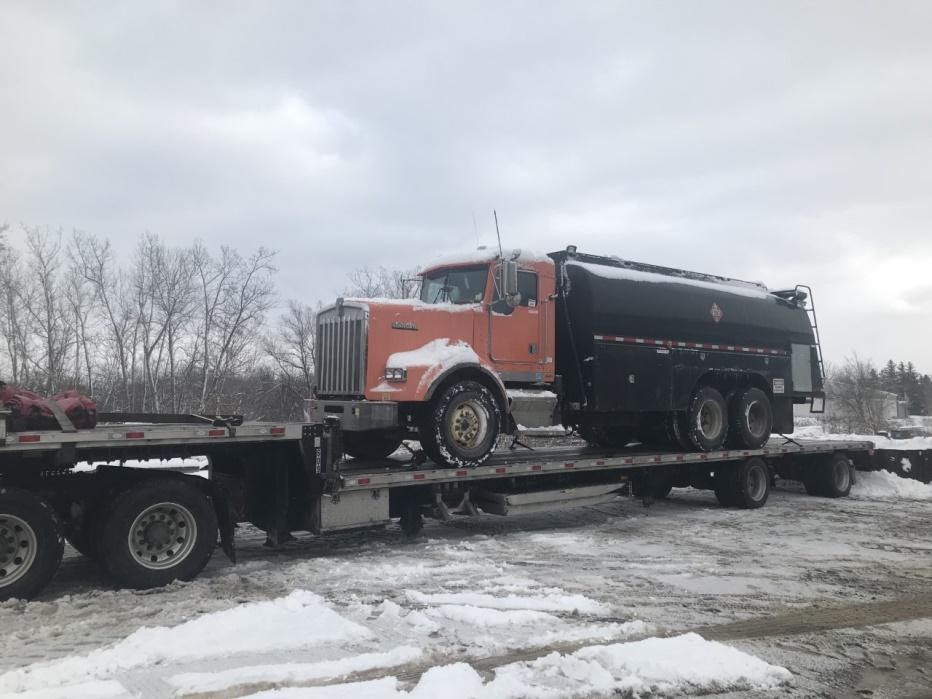 Expert Shipping of a 1997 Kenworth Truck in Snow
Our transportation agent, Andrew Raucci, was contracted to haul this 1997 Kenworth W 900 B from Akron, New York to Whittier, North Carolina, during heavy winter snowfall. Andrew, a Heavy Haulers extreme weather conditions transport specialist, performed a valuation of the 19,200 pounds Kenworth fuel tank truck and decided to transport it on a capacity handling drop deck trailer.
The 19 ft. long truck was loaded using ramps and then properly secured with chain tie-downs. Andrew made sure to handle every transport detail with precision and detail. He wanted to make sure both the truck and driver had a safe journey.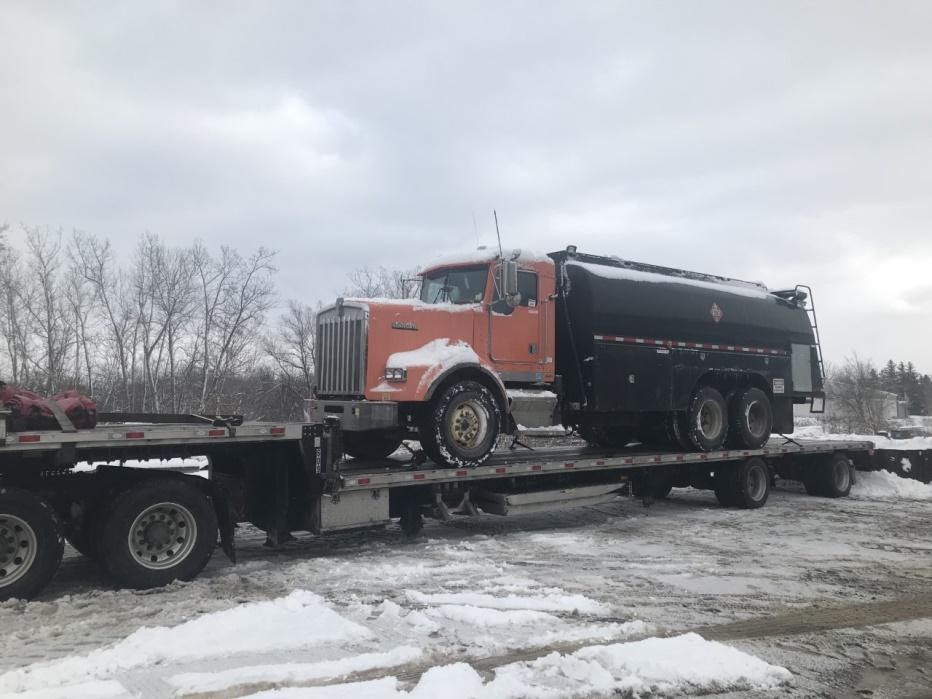 Get a Free Shipping Estimate Now!
Call us for all your heavy haul trucking needs! (800) 908-6206
The 10.5 ft. wide truck transport required permits for commercial vehicles on interstate transportation that weigh more than 10,000 GVWR.  Safety was, however, of utmost importance since around 4 inches of snow hampered heavy haul mobility, so Andrew Raucci selected an experienced team of driver and load handler for the consignment.  
Due to harsh driving conditions, the 1997 Kenworth trucks schedule was given ample time, which allowed for route navigation changes when snow or ice hampered fluent shipping. Andrew Raucci had to take into consideration factors for winter shipping, such as the cold temperatures, road conditions, and holiday traffic management. By using the state of the art Heavy Haulers dispatching system, Andrew accomplished the intricate nature of this transport with careful preparations.
All the Heavy Haulers catastrophic recovery measures were set in place way before shipping commenced, should there be any occurrence that necessitated them during the 764-mile journey. 
The load's conveyance was customized to suit the client's specifics with the most cost-efficient shipping technique without risking this cargo's integrity. With expert driving and the load handlers ensuring that the load was intact every 50 miles, Andrew Raucci's team from Heavy Haulers was able to deliver this 1997 Kenworth W 900 B Tank truck. 
Andrew Raucci coordinated all the dispatch consigning and logistics planning for this Kenworth tanker truck's shipping in extremely snowy conditions. Andrew is available now at (800) 908-6206 to perform a free quote and provide more information regarding hauling heavy loads in snow. 
Height:  17.5 ft.

Weight: 19,200 lbs.

Length: 19 ft.

Width: 10.5 ft. 

Transport miles: 764 miles

Transport route:

I-79 S 
For More Heavy Haul Blogs Check Out:
Get a Free Shipping Estimate Now!
Call us for all your heavy haul trucking needs! (800) 908-6206
Tell us what you thought of this heavy duty truck transport in the comments!