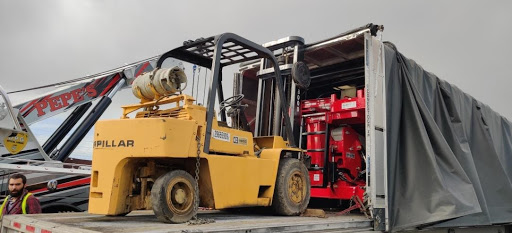 Shipping a 1999 Caterpillar Forklift on a Conestoga Trailer
Heavy Haulers operates an extensive fleet of Conestoga trailers for the simplified shipping of equipment inside a soft side tarp environment as opposed to open transport techniques. John Shanley oversaw the less than truckload (LTL) shipping of a 1999 Caterpillar Forklift from loading in California to unloading in Massachusetts.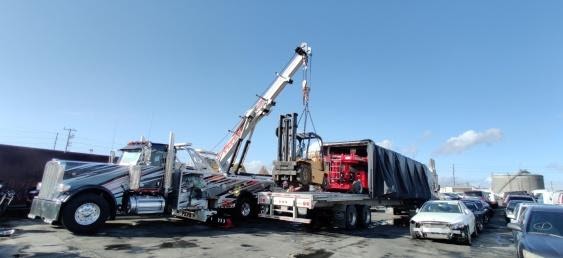 The versatility of a Conestoga trailer is such that cargo handling is accessible from three the left, right, rear, or from the top of the trailer. This is made possible by the rollback cover of the trailer, which exposes the flat deck platform during loading and unloading, but is covered when cargo is on transit.
In this instance, the Conestoga trailer's cover was retracted a third of the way to give crane access for the 4,000 pounds Caterpillar Forklift's loading, all without exposing the rest of the cargo.
Get a Free Shipping Estimate Now!
Call us for all your heavy haul trucking needs! (800) 908-6206 Click Here
Adapting to Any Challenge When Shipping a Forklift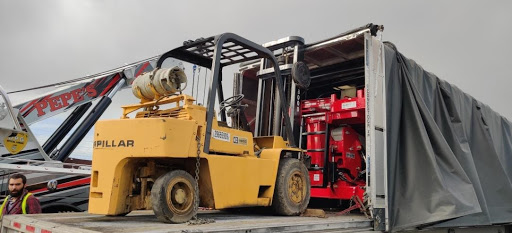 Initially, the Heavy Haulers' loaders placed the 6 ft. wide 1999 Caterpillar Forklift with its chain derrick facing the front, but they soon realized that the retracting canopy was a few inches shorter than the 8 ft. high equipment. A thoroughly graded crane turned it around, and the canopy was retracted up to the space between the forklift's cab and the lift itself, and the rear closing tarp came down to the machine's wheel level.
Once this process was accomplished and the load was secured with chains, John initiated the shipping of the 10 ft. long forklift for the 2,970-mile journey across the breadth of the US. This shipment went through the states of Nevada, Utah, Colorado, Iowa, and Illinois, before traversing through Indiana, Ohio, Pennsylvania, New York, and New Hampshire.
The transport took a total of 53 driving hours, and John employed a team of tandem driver cum load specialists who ensured that all the schedule requirements were adequately met.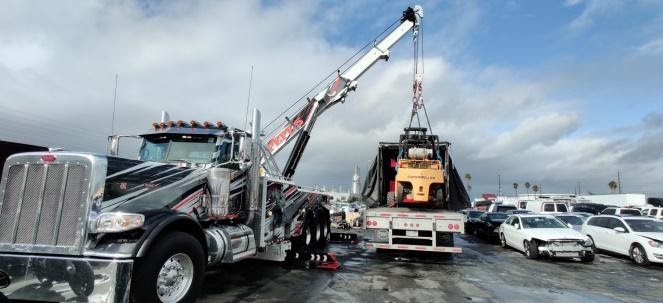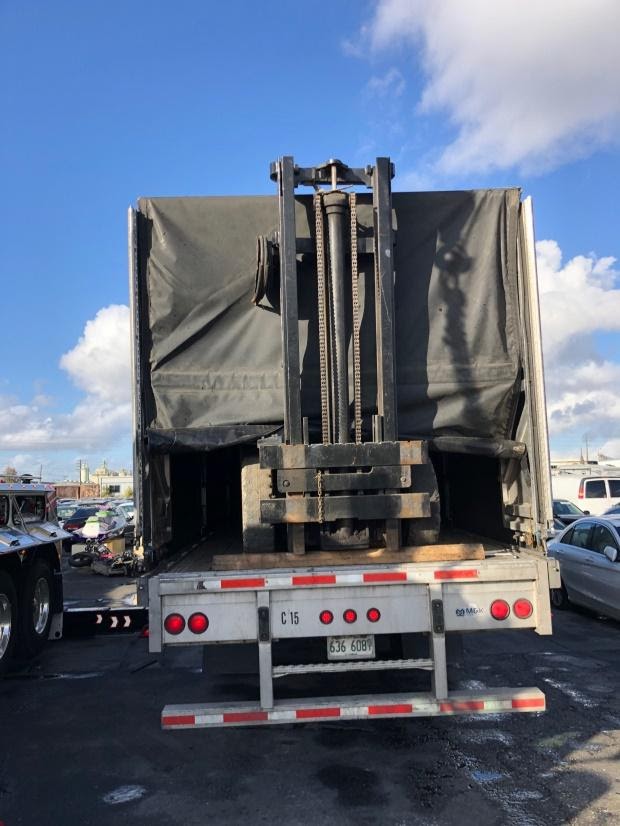 John performed the entire shipping of this CAT forklift on a Conestoga trailer, handling dispatch and logistics deployments for a successful and timely delivery. Talk to John at Heavy Haulers today for more information on Conestoga trailer shipping or cross country hauls on (800) 908-6206 today. 
Height:  8 ft.
Weight: 4,000 lbs.
Length: 10 ft.
Width: 6 ft. 
Transport miles: 2,970 miles
Transport route: I-80 E and I-90 E
For More Heavy Haul Blogs Check Out:
John Shanley
John Shanley is a senior logistics professional at Heavy Haulers, he coordinated this entire transport from start to finish, If you'd like a shipping estimate or more information on transportation from John Shanley, Please call him at his direct contact below.
Contact Him Today: (954) 908-3425
Get a Free Shipping Estimate Now!
Call us for all your heavy haul trucking needs! (800) 908-6206 Click Here
Have You Ever Transported Using a Conestoga Trailer?