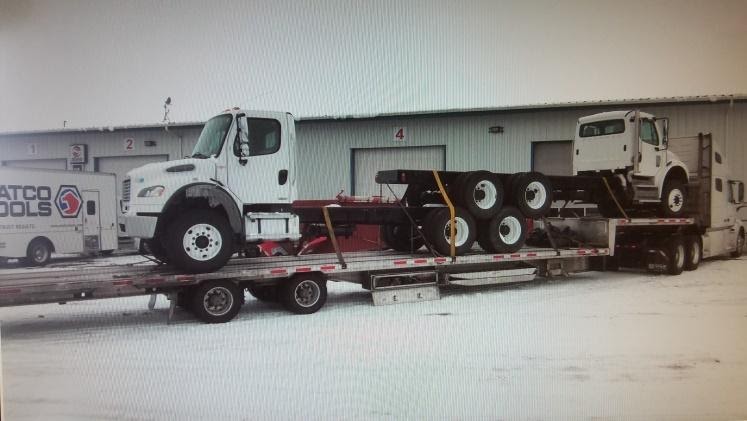 Truck Stacking Transport of Two Freightliner M2 Cab Chassis
Heavy Haulers transport specialists save deck space on carriers when transporting commercial vehicles such as these two 2008 Freightliner M2 cab and chassis. Our expert truck stacking operations undertake the shipping of multiple truck cabs on a versatile step deck trailer. This transport involved two M2 medium-duty day cabs with lengths of 26 ft. each, stacked one on top of the other to make a single load.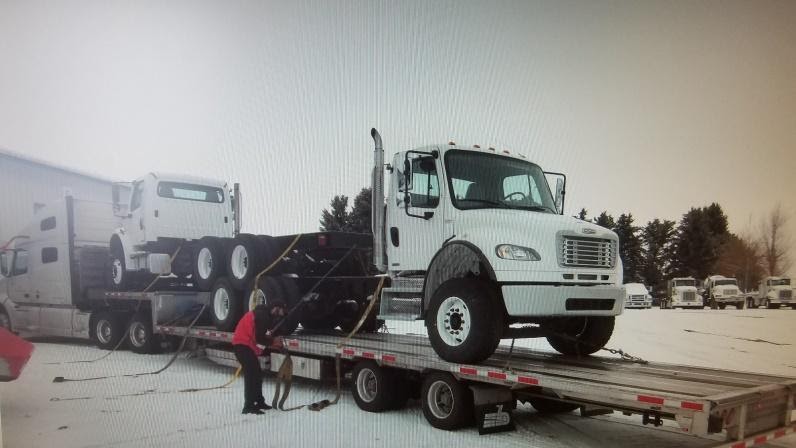 The mint condition Freightliner M2 cabs and chassis is the serviceable and cost-efficient methods that Heavy Haulers offer dealers, manufacturers, and retailers, or private entities with multiple similar hauls. These Heavy Haulers step deck trailer has a total length of 53 ft. and the capacity to handle the combined weights of the 36,000-pound trucks. Due to the versatile nature of this shipping technique, Heavy Haulers specialists employ only the most expert truck stackers to load such consignments. 
Get a Free Shipping Estimate Now!
Call us for all your heavy haul trucking needs! (800) 908-6206
Loading Process for Oversize Truck Stacking Shipment
The loading process for truck stacking shipment involved loading the first M2 cab front facing from the rear of our step deck trailer with a drive-on ramp. Once positioned next to the trailer's upper front level, another ramp gets this truck onto the 11 ft. upper front deck platform with its nose toward the tractor vehicle's cab.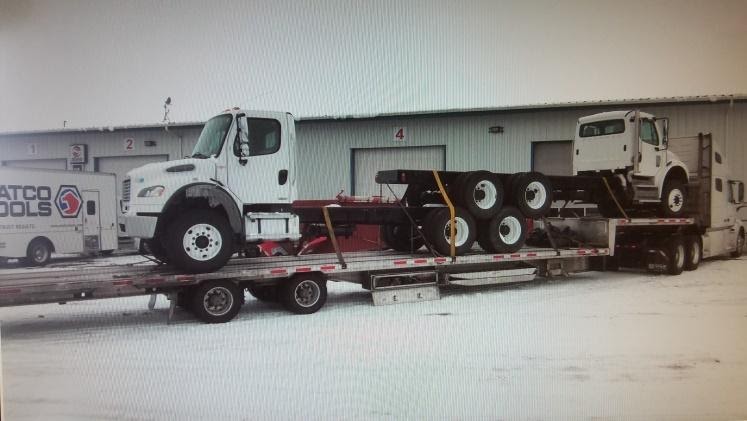 A tow wrecker or a crane is used to lift the chassis bed rear of the first Freightliner M2 while the 2nd truck is loaded reversed under the rear axle of the first. 
Our drop deck trailer platforms for truck stacking operations have transition areas that give sufficient 1.6 ft. extra for augured securing, and the M2 cab's wheels are locked for stability. The stacked truckload was delivered successfully after a 15-hour journey that involved winter driving across Idaho, Utah, and Arizona states.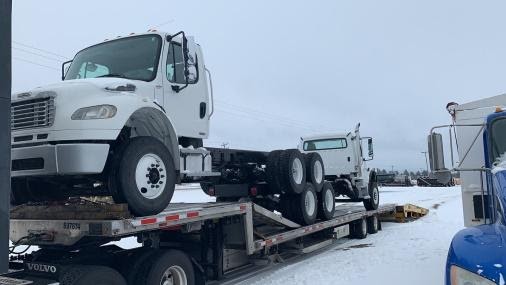 This shipment was secured well with chains and belts that hold the Freightliner M2 cabs onto the bed of the trailer, and with each other. Experienced riggers at Heavy Haulers have been performing such truck stacking transports for years and will do the job despite extreme weather conditions such as was during this consignment. 
Talk to Heavy Haulers on (800) 908-6206 for more information on truck stacking and enjoy a free shipping quote. 
Height:  8.5 ft. each

Weight: 18,000 lbs. each

Length: 26 ft.

Width: 8.5 ft. 

Transport miles: 895 miles
Transport route: I-15 S
Get a Free Shipping Estimate Now!
Call us for all your heavy haul trucking needs! (800) 908-6206
For More Heavy Haul Blogs Check Out:
Tell us what you thought of this heavy duty truck stacking transport in the comments!